Haierc Bird Repellent Flash Windmill HC1629S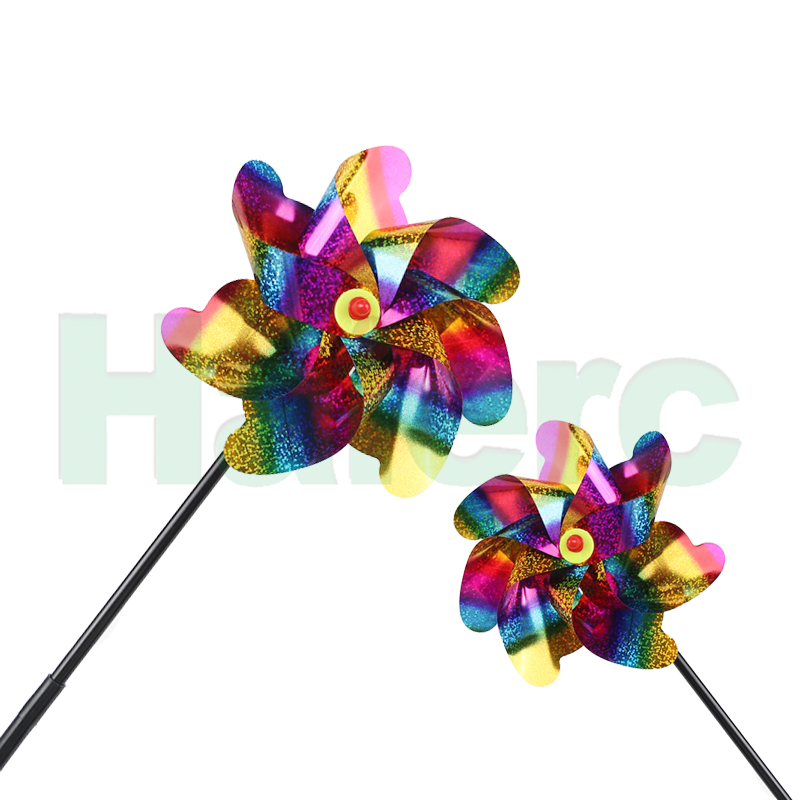 Detailed information
Bird Repellent Flash Windmill is not only a bird repellent for farms, but also a very beautiful garden decoration. The windmill can protect your orchard or vegetable garden from bird infestation, thus ensuring the normal growth of vegetables, flowers and fruits.
Bird Repellent Flash Windmill is a humane and chemical-free way to deter birds,bird repellent flash windmill uses the principle that birds are afraid of light, and is widely used in farmland, orchards, vegetable gardens, lawns, airports and homes with mild bird damage. It can be rotated when there is a slight wind, and the sun can reflect light to achieve the purpose of repelling birds.
1. The Bird Repellent Flash Windmill is made of safe, non-toxic, high-quality, durable, shatter-proof and weatherproof PET material, not easy to break, bright in color and not easy to fade, and will not cause harm to the environment and animals.
2. The support handle of Bird Repellent Flash Windmill is made of reliable, high-quality materials, has a long service life, can withstand strong winds and stand firmly.
3. Easy to install and disassemble, suitable for vineyards, orchards, gardens, houses and other places.The windmill rotates in the wind and reflects sunlight. Practical and beautiful, it can also be used as a good garden decoration to add elegance to your garden.
4. Suitable occasions: install these windmills in yards or porches, gardens, lawns, swimming pools or outdoor restaurants, on boats and anywhere you want to be a bird-free zone.
5.By reflecting light to scare birds, safe environmental protection.
6.Light weight, no pollution, good effect.
7.Is simple to use, do not harm birds, save manpower, protect the ecological environment.
We are a professional manufacturer produce more than one thousand various of
pest control
products and pet products,such as
Bird Control
Products, Mole Control Products,
Fly Control
Products,
Mouse Control
Products,
Pet Cages
,etc. Our products have been widely used for Pest control in
farm,gardens,public,warehouses,hotels,houses
,etc.